Greek Night Dinner Fundraiser
Come help support PEP with this delicious fundraiser!!
When: Friday, May 27, 2022
Location: Elliot Street Clinic (12 Elliot Street, Perth)
Time: 5pm – 7pm  * When you place your order you must let us know the time frame you will be picking up the dinner
Meal Options:  (1) Chicken Souvlaki on Rice with Tzatziki   (2) Spanakoteropeta (Spinach and Feta Pie) with Tzatziki
All meals include pita bread, avgolemono soup, greek salad and baklava for dessert.
Cost: $25.00 per meal
Thanks to our sponsor Frank Kotsovolos and the Tangled Garden Cafe in Wesport and to Lola Kotsovolos for offering her Cook Book."
Cooking with Yiayia Lola" for sale. Cost $20.00. All proceeds going to PEP.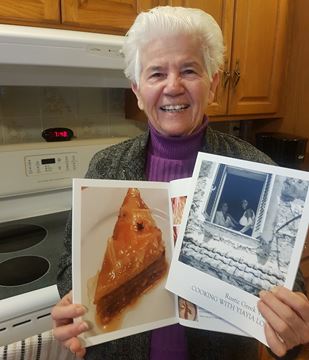 To order your Greek Dinner or cookbook call PEP at 613-201-7171  or click HERE.
Looking forward to enjoying this wonderful Greek Dinner with all of you while raising money for PEP!
---
COME AND GET YOUR POLKA ON!!
We are planning a fun and tasty fundraiser!
Purchase our $20 Dinner Boxes and Pretzels to support a great cause.
Dinner 1 – Weiner Schnitzel on a bun with lettuce and tomato
Dinner 2 – Sausage on a Bun
Both meals include : German Potato Salad, Sauerkraut and Pumpkin Spice Cake with Vanilla Icing! ADD a Warm Pretzel for $3
Drive Thru Take out Times :  5 pm – 7:30 pm.
Stay for Music and reserve a Picnic Table : Reserve either 5PM or 6:30PM
Sit with your bubble of 4-6 and listen to Polka Music! German beer, wine and cider will add to the flavour of the evening!
Date: Friday, October 15, 2021 // Time: 5 pm to 11 pm // Location: 12 Elliot Street, Perth
For more information or to Reserve by phone call 613-201-7172
DINNER Boxes for the WHOLE FAMILY!
A huge thank you to all of our wonderful sponsors who are supporting our senior's day program through this fundraiser:
Maximilian Restaurant, Lake 88.1, HealthyBOOKS, The R'Ale House, TeamPlayer Business, Star Horn: Mohawk Artist, Warrior Video
---